SPRING MUSICAL 2021 - THE WIZARD OF OZ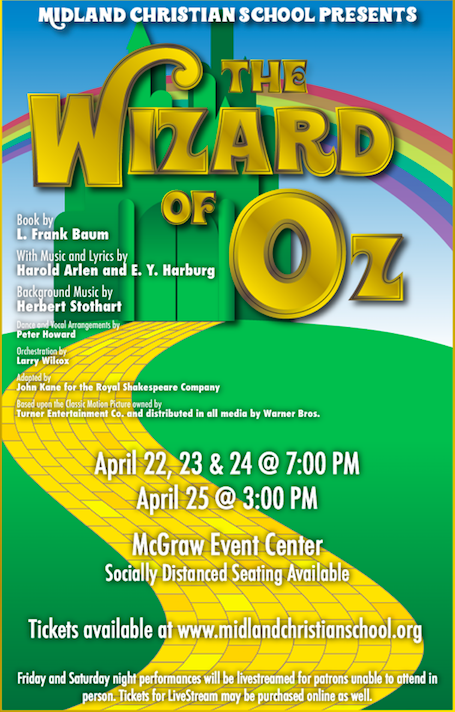 Tickets Available March 1st!
https://www.midlandchristianschool.org/o/mcs/page/tickets--5
Performance Dates and Times:
Thursday, April 22 @ 7:00 PM

Friday, April 23 @ 7:00 PM (+ Live Stream)

Saturday, April 24 @ 7:00 PM (+ Live Stream)

Sunday, April 25 @ 3:00 PM
Ticket prices: $5-$25 (depending on quality of seating and date of performance)
Limited Capacity: We have limited our capacity to 450 per performance due to Covid
Live Stream: We also have tickets for live stream of the performance, for those who are not able to come to the performance or for those who are concerned about Covid exposure. Tickets for livestream are $10 per individual or $40 per household (four or more people in ONE location - not to be shared), per our performance license. Live stream patrons will receive a secure link to the viewing less than a week prior to the show.
Socially Distanced Seating: The four end seats of each section of the seated risers are held for those seeking socially distanced seating. The seats are to be sold as a set of four, and have a 6 ft clearance behind, in front, and to the aisle side. For more information or to purchase these seats, contact Joe Jung at jjung@mcs1.org.
Other COVID-19 Info: We respect all patrons' decisions in regard to mask wearing. We encourage the use of masks, and believe that they can be very effective in preventing the spread of Covid-19, but understand that many have been vaccinated, have immunity from previous exposure, or are just in general opposed to mask wearing. Please be respectful of all patrons' choices in regard to mask wearing. We will have all seats disinfected after each performance.
Casts: We do have two separate sets of main characters, each of which will be in two performances. There may be students in both casts that you may want to support, so I have listed those students and the roles they portray below:
GREEN CAST (Thursday/Saturday)
Dorothy - Kennedy King

Scarecrow - Katie Sowders

Tinman - Cason Procter

Lion - Will Bundy

Glinda - Maddie Langston

Wicked Witch of the West - Landry Jung

YELLOW CAST (Friday/Sunday)

Dorothy - Destiny King

Scarecrow - Rani Webb

Tinman - Brendan Lancaster

Lion - Jace Schiel

Glinda - Isabel Nichols

Wicked Witch of the West - Emory Goldapp
Any questions can be directed to Mr. Jung or Mrs. Rydell.