RE-ENROLLMENT 2023-2024 Open February 10th-17th, 2023
To complete re-enrollment click HERE and follow the steps below: Completing Reenrollment
Please complete forms and contracts for each of your enrolled children by following the steps below:
FORMS
1. Click on Form(s) to Review (yellow bar at top of the screen).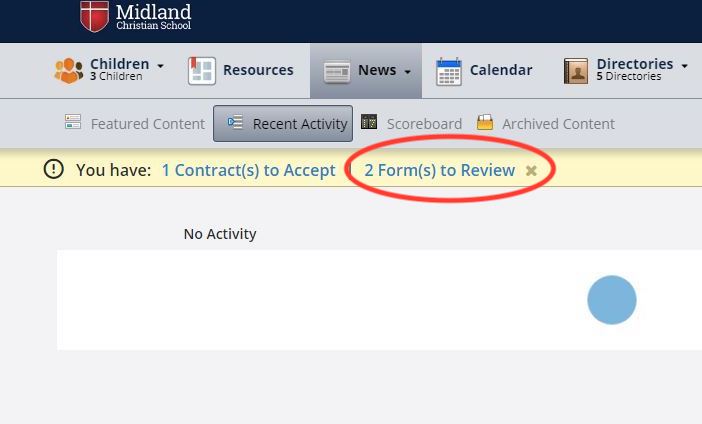 2. Please review Student, Parent & Grandparent profiles and update as needed
3. Click Submit and Thank You.
CONTRACTS
1. Click on Contract(s) to Accept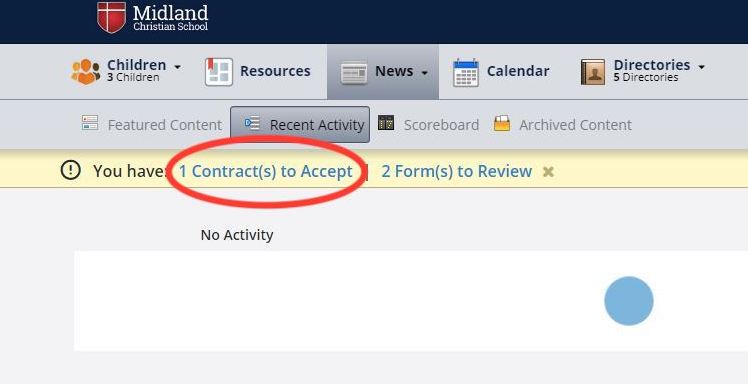 3. Follow on-screen steps to complete contract.
4. Sign and Submit
5. Pay applicable registration fees via credit card or bank draft (note: a convenience fee of 2.85% will be applied to all card transactions).
6. Click Thank You (from resulting page you can print final contract and complete contracts for any other students).

The navigation bar will appear at the top of every page. Use this to:
Search the site.

Access the Activity Stream.

Search the Directory.

Access your Official Notes.

Access your Inbox.

Access your Account.
You will also see a menu for the Resource Board (with general school information), as well as for each of your children who attend the school.
For more complete instructions on how to navigate and update your profile click HERE.
For contract or financial issues, please call (432) 694-1661.
For log in or navigation, issues email here or call (432) 694-1661.