Our History
In the late 1950s a group of men and women had a vision. They dreamed of a school in Midland that closely resembled the school they attended as children. A school that taught Biblical principles, alongside Science, Math and English principles. A school that acknowledged Christ and sought guidance from the Word. A school that would "train up a child in the way" (Prov. 22:6). A school that would partner with parents in raising Godly children and adults.
With these guiding principles these men and women formed Midland Christian School in 1957 meeting in a small building behind their church in downtown Midland. They welcomed thirty students – fifteen kindergarteners and fifteen first graders. It was evident to the founders that God was blessing this idea, so they went to the edge of town and built three buildings at the school's current address and opened its doors in 1963. Grades were added throughout the years until 1981, when Midland Christian's first graduating class walked the stage.
The pursuit of excellence in academics, athletics and the arts continues to be our trademark. God has blessed this pursuit over the years with enrollment exceeding 1200, making Midland Christian the second largest school of its kind in the country. The present finds us enjoying new facilities, wonderful Christian faculty and staff, and a vision for a great future.
"Because we believe in God and want to train up our children in the nurture and the admonition of the Lord..." (from the first MCS yearbook, circa 1973)

Our Mission
The mission of Midland Christian School is to assist parents in leading students to love God and to seek truth by training them in a Christ-centered environment that emphasizes moral and academic excellence and inspires them to develop their God-given talents for lives of Christian leadership and service.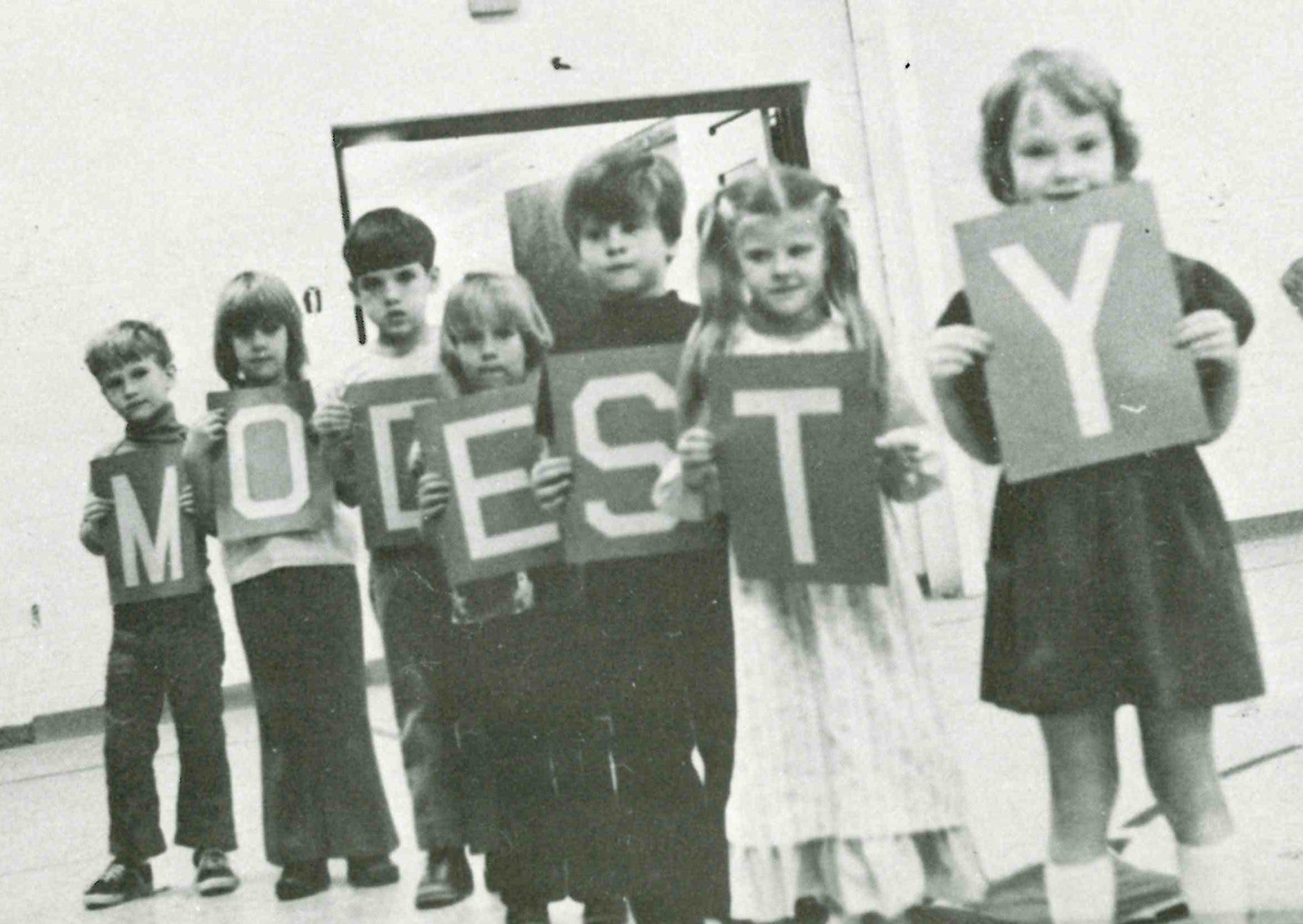 Chapel Program, 1977
Our Philosophy
Midland Christian School believes that Christianity promotes the highest ideals, develops the strongest character, and holds the greatest promise of any way of life. The entire program of Midland Christian School centers around Biblical principles that govern Christianity, instilling a Biblical worldview in the hearts of students.
The question to be asked at the end of an educational step is not "What has the child learned?", but "What has the child become?" - J.P. Monroe
- J.P. Monroe  
Our Purpose
We are motivated in all facets by our faith in Jesus Christ, attempting to serve as a reflection of God's unconditional love for all people. We seek to honor the Lord in all that we do by operating Midland Christian School in a manner consistent with Biblical principles. It is important to us that every word and deed engaged in by Midland Christian School, its employees, representatives, volunteers, and students be consistent with and in furtherance of Midland Christian School's religious purposes: both publicly and privately. We are committed to putting our faith into action every day as we use our lives to make a tangible difference for children.
All activities which Midland Christian School pursues are for the dual religious purposes of furthering its Christian mission, message, and viewpoint and educating students in accordance with that mission. Whether the activity has an exclusively religious purpose (e.g. worship service, discipleship classes, or religious teaching) or is an ancillary religious activity (e.g. community service projects, extracurricular activities, or social events), it is intended to glorify God. Midland Christian School conducts all activities in a holistic manner in order to foster, repeat, advertise or express its Christian mission, message and viewpoint. In this way every school activity itself is infused with a religious purpose, as an act of faith, intending to further Midland Christian School's religious beliefs. Our commitment to our faith is outlined in, but not limited to: the Parent/Student Handbook, the Teacher Handbook, the Acceptable Use and Laptop Agreements, the Board Policy Manual, the Mission Statement, and the Statement of Philosophy (the "Written Statements of Faith").
Conveying Midland Christian School's Christian message is at the heart of all that we do: in life, deed, word and expression. Midland Christian School is dedicated to instilling in our students and the community the Gospel message of Jesus Christ, not simply engaging in organized worship. Provision of community services and charity are some of the means of fulfilling Christian duty and providing an example of the Christ-like way of life that Midland Christian School seeks to foster. Some examples of this include: care for children, widows, and those in need, as well as evangelism, strengthening Christian leadership, discipleship and Biblical education. Therefore all behavior of students and staff of the school is communicative in nature, exemplifying the faith. Associating with likeminded Christian families reinforces Midland Christian School's Christian purpose and is vital to the faith's perpetuation.
Finally the primary, exclusive, and only purposes for which Midland Christian School is organized are religious in nature, including the propagation of our religious faith through biblical education, community services, and curriculum. Likewise, Midland Christian School intends to disseminate, teach, and preach the Gospel and teachings of Jesus Christ, to encourage and aid the growth, nurture and spread of Christianity and to render Christian service. The recital of these purposes is intended to be exclusive of any and all other purposes, this Midland Christian School being formed for religious and charitable purposes only.
Statement of Faith
At Midland Christian School, we believe that the following are longstanding principles of scriptural truth based on the Bible, the constant moral teachings of our forefathers:
WE BELIEVE the Bible, the only infallible, authoritative word of God in all matters of faith and conduct, to be inspired by the Holy Spirit. No one has the authority to add to or take away from the word of God. Deuteronomy 4:2; Psalm 19:7-9; Proverbs 30:5-6; I Corinthians 2:13; Galatians 1:8-9; II Timothy 3:15-17; II Peter 1:20-21; Revelation 22:18-19
WE BELIEVE that there in one God, eternally existent in three persons: Father, Son, and Holy Spirit. Genesis 1:1-3; Isaiah 44:6-8; Matthew 28:19-20; Mark 12:29; John 1:1-4; Acts 5:3-4; II Corinthians 13:14
WE BELIEVE in God the Father, an infinite, personal spirit; the creator of all things, visible and invisible, in the heavens and on the earth, perfect in holiness, wisdom, power and love. We believe that He concerns Himself mercifully in the affairs of each person, that He hears and answers prayer, and that He, and only He, saves from sin and death all who come to Him through Jesus Christ. Genesis 1, 21:33; Isaiah 40:28; Exodus 33:14; John 4:24; Revelation 4:8; Romans 11:33-34; Jeremiah 32:17; Ephesians 1:19-20, 3:9; Jeremiah 31:3; Romans 5:8; II Samuel 24:14; I John 5:14-15
WE BELIEVE in God the Son, Jesus Christ the Savior, the only begotten Son of God, in His deity, in His virgin birth, in His sinless life, in His miracles, in His substitutionary and atoning death through His shed blood, in His bodily resurrection, in His ascension to the right hand of the Father, in His continuous intercession for His people, and in His personal return in power and glory. John 1:1, 2, 14, 18; John 3:16; Luke 1:34-35 & 24:27; Hebrews 4.-15; Romans 3:23-26 & 8:34; Mark 8:38; Matthew 24:30; I Corinthians 15:3-4
WE BELIEVE in God the Holy Spirit, the Helper and Comforter, in His daily guidance and revelation of truth, in His conviction of sin, righteousness and judgment, and in His indwelling presence at the moment of salvation, enabling believers to live godly lives. John 3:5-8, 14:16-17 & 16:13-14; Acts 1:8; I Corinthians 12:13; Ephesians 4:30-32 & 5:18
WE BELIEVE we are created in God's image, but because we sin, we become separated from God and in need of salvation. Regeneration by the Holy Spirit is absolutely essential for salvation through the repentance from sin and the acceptance of Jesus Christ as Lord and Savior. We receive the gift of salvation only by accepting God's invitation to enter into a covenant relationship with Jesus, placing our trust and faith in Him, and obeying His command to be immersed in water, which reflects the death, burial, and resurrection of Jesus. No one comes to the Father except through Jesus Christ and there is no other name under heaven by which we are saved. Isaiah 59:2; John3:5-8, 16; 5:24; 14:6; Acts 2:21, 37-39, 4:12; Romans 3:10-11, 23; 6:3-4, 23; I Corinthians 15:1-4; Ephesians 1:6-7, 2:1-10; Titus 3:3-8; I Peter 1:23
WE BELIEVE in the resurrection of both the saved and the lost—the saved unto the resurrection of eternal life and the lost unto the resurrection of eternal separation from God. Luke 16:19-26; II Corinthians 5:8; Philippians 1:23; II Thessalonians 1:7-9; Revelation 20:11-15
WE BELIEVE in the spiritual unity of believers in our Lord Jesus Christ, all of whom are added by God to the church, which is Christ's body on earth and of which He is head. Just as Christ is not divided, His church should not be subject to human divisions. We are called by God to gather regularly to worship and to be active in participation so that we may be mutually encouraged and so the body will build itself up as each part carries out its particular function. Matthew 28:19; Acts 2:42-47, 20:7; Romans 15:5-6; I Corinthians 1:10-13, 11:23-26, & 12:13; Ephesians 1:22-23, & 4:3-6, 11-16; Colossians 1:18; Hebrews 10:25; I Thessalonians 5:11
WE BELIEVE that we should put away the desires of the sinful nature and, led and empowered by the Spirit, live godly lives worthy of the calling we have received, not for the purpose of earning salvation (which is a gift from God and cannot be earned), but in response to the incomparable riches of God's grace. Galatians 5:16-26; Ephesians 2:4-10, 4:1, 5:1-20; Titus 2:11-14; II Peter3:11
WE BELIEVE that marriage is a permanent, exclusive, comprehensive, and conjugal "one flesh" union of one man and one woman, intrinsically ordered to procreation and biological family, and in furtherance of the moral, spiritual, and public good of binding father, mother and child. Genesis 1:27-28, Genesis 2:18-24, Matthew 19:4-9, Mark 10:5-9, Ephesians 5:31-33
WE BELIEVE that sexual acts outside of marriage are prohibited as sinful, including without limitation, adultery, fornication, incest, zoophilia, pornography, prostitution, masturbation, voyeurism, pedophilia, exhibitionism, sodomy, polygamy, polyamory, sologamy, or same-sex acts. Exodus 20:14, Leviticus 18:7-23, Leviticus 20:10-21, Deuteronomy 5:18, Matthew 15:19, Matthew 5:27-28, Romans 1:26-27, I Corinthians 6:9-13, I Thessalonians 4:3, Hebrews 13:4, Galations 5:19, Ephesians 4:17-19, Colossians 3:5
WE BELIEVE that God created mankind in His image: male (man) and female (woman), sexually different but with equal personal dignity. We also believe that human life begins at the moment of ferilization and that men and women must affirm their physical biological sex given to them by God at the time of conception and refrain from any and all attempts to physically change, alter, or disagree with such physical biological sex, including without limitation elective sex-reassignment, transvestite, transgender or non-binary "genderqueer" acts or conduct. Genesis 1:26-28, Romans 1:26-32, I Corinthians 6:9-11
WE BELIEVE that God created and ordered human sexuality to the permanent, exclusive, comprehensive and conjugal "one flesh" union of a man and a woman, intrinsically ordered to procreation and biological family, and in the furtherance of the moral, spiritual, and public good of binding father, mother and child, and we resist and refrain from any and all same-sex sexual attractions, acts and conduct, which are all intrinsically disordered. Genesis 1:27, Genesis 2:24, Matthew 19:4-6, Mark 10:5-9, Romans 1:26-27, I Corinthians 6:9-11, Ephesians 5:25-27, Revelation 19:7-9, Ephesians 5:25-27, Revelation 19:7-9, Revelation 21:2
WE BELIEVE that all have sinned and fall short of the glory of God and should seek redemption through confession, repentance, baptism, and faith in Jesus Christ, and that we must welcome and treat with respect, compassion and sensitivity all who confess their sin (including sexual immorality) and seek redemption and commit to resisting sinful temptation and refrain from immorality. Matthew 11:28-30, Romans 3:23, Ephesians 2:1-10, I Corinthians 10:13, Hebrews 2:17-18, Hebrews 4:14-16
All persons associated with Midland Christian School (including without limitation all teachers, staff, coaches, students, volunteers, parents and others) must affirm and adhere to this Statement. This is necessary for Midland Christian School to accomplish our religious mission, goals and purpose. Behavior or counter-witnessing that does otherwise will impede and burden our integrity and religious mission. We believe that God's grace can wipe the slate of guilt and sin, though the consequences are still incurred.
--As adopted by the Board of Trustees, May 16, 2017
Midland Christian is pleased to make the Admissions process available to all students regardless of race, color, religion, sex, handicap and/or national origin.